Lockdown is old news (hooray!), which means many Kiwi's are planning to embark on a holiday across New Zealand.
It's a great time to hop in the vehicle and explore New Zealand's natural beauty, delightful accommodation and thrilling activities — and without the crowds! 
Here at Wireless Nation, we connect businesses with internet and Wi-Fi solutions all across the country, especially remote, hard to reach areas. 
Tourism is a great passion of ours which is why we love connecting tourism operators. Some of our tourism customers offer amazing accommodation and activities in some of the most beautiful spots in NZ. 
We have compiled a list below to help you plan your own Kiwi travel itinerary. You'll find great places to stay and exciting activities to do!
The list is compiled A-Z, starting with options in the South Island, followed by the North Island.
South Island
Cruise Milford NZ
Type: Activity
Location: Milford Sound
Website: https://cruisemilfordnz.com
What they offer:
Cruise Milford NZ Ltd. is a family owned and operated business specialising in boutique small boat cruises at Milford Sound. With over 40 years of combined experience in the Milford cruise market we can offer an outstanding customer experience with service you can rely on. Our two vessels are surveyed for 150 passengers. All cruises are limited to HALF of the capacity (75pax) to guarantee an uncrowded and much more personal experience. A high staff to customer ratio allows our Nature Guides to really look after our guests to make their Milford Sound experience one to remember. Cruise Milford received a TripAdvisor "Traveller's Choice Award" in 2019 for being one of the top 10 products in New Zealand and has been rated #1 Cruise operator at Milford Sound on TripAdvisor for 5 consecutive years.
Fiordland Discovery
Type: Activity
Location: Fiordland National Park
Website: https://www.fiordlanddiscovery.co.nz
What they offer:
Fiordland Discovery is a family-owned and run business, with the owners having a lifelong connection to Fiordland and Stewart Island. The idea behind Fiordland Discovery is to offer visitors up-close-and-personal access to one of New Zealand's most iconic National Parks and New Zealand's third largest island Stewart Island, through operators that have genuine connections to these areas. Explore the remote wilderness areas of Doubtful, Breaksea & Dusky Sounds, and Preservation & Chalky Inlets on one of their Fiordland public or charters or Paterson Inlet, Port Adventure & Port Pegasus on one of their Stewart Island public or private charters.
Fiordland National Park Lodge & Lone Moose Backpackers

Type: Accommodation
Location: 2681 Te Anau-Milford Rd, Fiordland National Park 9679
Website: www.fiordlandnationalparklodge.com
What they offer:
We are the gateway to Milford sound. Our lodge and backpackers is located  on the lakeshore at Te Anau Downs,  on the Milford  road, 20 mins out of Te Anau. Nestled in nature, quiet and peaceful, surrounded by the very best of what the National park offers is our place. Lodge rooms, motels and backpackers we cater to all travellers and our tourists and we welcome you to our special spot. Check out our website for the latest deals and packages. Come see us to enjoy Fiordland's bounty.
Gibbston Valley
Type: Accommodation & Activity
Location: Gibbston Valley
Website: www.gibbstonvalley.com & www.gibbstonvalleylodgeandspa.com
What they offer:
Gibbston Valley Winery. Located in beautiful Central Otago wine region, Gibbston Valley Winery is world-renowned for their historic vineyards and handcrafted Pinot Noirs. The winery is also home to a bistro-style restaurant, a tasting room, the country's largest wine cave, a bike centre and the newly opened luxury Lodge & Spa.
Gibbston Valley Cellar Door offers various tasting options featuring their full range of wines. Their expert staff can take you through the finer points of tasting wine from current releases to select vintages.  The winery also runs daily cave tour and winery tours where you can visit Home Block, the region's oldest vineyard, do a tasting in New Zealand's largest wine cave and catch a glimpse of their winemakers in action.  Renowned Chef, Anthony Gradiska, has crafted the menu to pair beautifully with their premium, handcrafted Gibbston Valley Wines, and to make each and every ingredient sing. With Chef's gardens scattering the Gibbston Valley property, there's never a shortage of fresh ingredients.
Our menus are inspired by classic European cuisine with a modern New Zealand twist, with a use of seasonal and local produce. Return transportation from Queenstown is available on Gibbston Valley's daily shuttle service.
Jucy Cruise
Type: Accommodation
Location: Milford Sound
Website: www.jucycruise.co.nz
What they offer:
JUCY welcomes you aboard one of our purpose built catamarans with extensive outdoor decking and indoor cabins with large windows that have been specifically designed to immerse passengers in the incredible surroundings of Milford Sound. 
The cruise will take you the length of Milford Sound to the Tasman Sea and back beneath sheer cliff faces with stunning views of glaciated peaks stopping by seal colonies and waterfalls dropping from huge heights directly into the fiord along the way.
JUCY Cruise is a perfect fit for guests looking for something special in Milford Sound – the area hailed as the '8th wonder of the world' whilst being taken care of by our friendly and interactive crew.
Promotion: 
$30 off adult cruise departures until 30 Sep

Kids go Free (5-14yrs) until 30 Sep

$160 off adult fly-cruise-fly dep. Queenstown until 30 Jun
Milford Helicopters
Type: Activity
Location: Milford Sound Airport
Website: www.milfordhelicopters.com
What they offer:
Milford Helicopters is owned and operated by Te Anau Helicopter Services. Our experienced team will have you up in the air exploring in no time! Stunning sights are on offer during scenic helicopter flights or extend your time in the heart of Fiordland with one of our  experience options that combines a flight with a popular Milford Sound activity. We also arrange transfers/custom charters including hunting, fishing and  commercial work. Contact our friendly team to organise your trip of a lifetime. 
Milford Sound Lodge
Type: Accommodation
Location: Milford Sound
Website: www.milfordlodge.com
What they offer:
In the heart of Fiordland National Park, Milford Sound Lodge occupies an enviable location that must be seen to be believed. A collection of luxurious chalets and tranquil forest campervan sites, the lodge offers a rare opportunity to spend the night just minute's from Milford Sound Cruises and the Milford Track. Nestled beneath the mighty peaks of the Darran Mountains and alongside the spectacular Cleddau River, the lodge is completely immersed within its setting. Here, the sights and sounds of the native forest provide instant relaxation and rejuvenation.
Promotion: 
Punakaiki Beach Camp
Type: Accommodation
Location: Punakaiki, West Coast
Website: Punakaikibeachcamp.co.nz
What they offer:
Between the beach, river and National Park the Punakaiki Beach Camp is truly a paradise holiday destination. Whether staying in a our beautiful NEW Riverside Cabins or powered/ non-powered site you can be sure to hear the ocean crashing and the birds singing. An ideal spot for a couple of nights stay. 
The camp is beside the beach with tracks going into the National park. The camp is located 700m north of the Pancake Rocks under magnificent limestone cliffs. We have full kitchen, bathroom and laundry facilities available. Hot showers included.
Promotion: 
30% off new riverside cabins before October 1, Promo code "Riverside" on our website
Pure Pods
Type: Accommodation
Location: 6 unique locations in Canterbury, including Banks Peninsula, Waipara, Greta Valley & Kaikoura
Website: www.purepods.com
What they offer:
A PurePod is a luxurious glass eco-cabin located in a secluded and beautiful part of the Canterbury landscape, where you can be assured of complete privacy and stunning views. Whatever the weather, the views from the solar-powered PurePod are guaranteed to be exceptional. Drench yourselves in morning sunshine on the deck, or batten down the hatches and watch raindrops dancing on the glass roof – all surrounded by lush native foliage, captivating birdsong and the ever-changing skies overhead. And, then there's the magic of watching all the twinkling stars and the beautiful sunrise from the comfort of bed. Everything you could ever want is right here, from a well-equipped kitchenette, a deluxe shower and a flushing loo, to comfy deck chairs, a BBQ and a stargazing telescope. You can also order a scrumptious dinner and breakfast hamper with a delicious selection of local produce.
Promotion: 
5 star Qualmark Gold Award for Tourism Sustainability

$590 per night, plus $149 for the optional dinner & breakfast hamper
Southern Lakes Helicopters
Type: Activity
Location: 79 Lakefront Drive, Te Anau
Website: https://southernlakeshelicopters.co.nz
What they offer:
When a place is so special it's been awarded World Heritage status, seeing it from the air is an absolute Must-Do. From our spectacular Milford Sound scenic flight to getting of the beaten track with our Expedition Fiordland or landing in a hanging valley in Doubtful Sound, a scenic flight makes an unforgettable addition to your New Zealand vacation.
Promotion: 
Enjoy 15% off your scenic flight when mention KIWITRAVEL on booking. Available for direct bookings via our website between 1 May and 30 September 2020
Rosco's Milford Kayaks
Type: Activity
Location: Milford Sound, Fiordland
Website: www.roscosmilfordkayaks.com
What they offer:
Winter 2020: A winter like no other. This is absolutely no exaggeration. Experience a tourism time warp back to the early 1970s when Milford Sound's fishing fleet outnumbered the tour boats! This is strictly a four-month window of Milford Sound bliss. You now have an absolutely amazing chance to experience Piopiotahi in peace, from the comfort of a safe, stable double sea kayak. Do not miss this once in a lifetime opportunity to enjoy Milford Sound without the crowds. We look forward to paddling with you!
Promotion: 
Sunriser Classic is now $139 (3-3.5hrs paddling) and Milford Cruiser Tour $99 (2hrs paddling)
North Island
Grand Mercure Puka Park
Type: Accommodation
Location: 42 Mount Avenue, Pauanui 3579
Website: www.pukapark.co.nz
What they offer:
Grand Mercure Puka Park offers a quintessential and unique New Zealand experience on the spectacular Coromandel Peninsula. Sleep in one of our 48 luxurious chalets nestled into native bush on the slopes of Mount Pauanui and enjoy dining by the fire place in our restaurant. Resort facilities include heated outdoor pool, spa, sauna, tennis court and bikes. Have a little break and enjoy the comfort of our rooms or just join us for a delightful dinner.
Promotion: 
Winter promotion: 2 nights in a Tawa Treehut inclusive full breakfast each morning and 15% discount on dinner food for only $299 (Sundays to Thursday)

Upgrades available as $25 per night for a Friday and Saturday night, $30 upgrade fee per night for a luxurious Rimu Chalet. For bookings please call 07 864 8088 or email reservations@pukapark.co.nz
Kawhia Beachside Scape
Type: Accommodation
Location: 225 Pouewe Street, Kawhia 3843
Website: https://www.kawhiabeachsidescape.co.nz/
What they offer:
We have a range of accommodation to offer our guests, from caravan and tent sites to motels and cabins on the Waterfront. We cater for individuals through to large groups, families, work functions and fishermen and have a well presented kitchen/lounge and bathroom facilities. We provide a relaxing retreat away from everyday life, Kawhia is the perfect place to enjoy New Zealand's natural environment, including thermal hot spa at Ocean Beach, History Museum, and fishing charters for famous West coast fishing. 
Promotion: 
Waterfront Ensuite Motels $100 per night – Based on 2 people – Queen Bed, Ensuite Shower and Kitchenette

Cabin Ensuite $90 per night – Based on 2 people – Queen Bed, Ensuite Shower and Kitchenette

Waterfront Non powered Tent Sites & Small Van Sites $30 per night – Based on 2 people

Waterfront Caravan Sites Powered $40 per night – Based on 2 people

Fishermans Special Bunks $25 per person – Basic Cabins – Sleeps 2 to 5 people per room
Lazy River Lodge
Type: Accommodation
Location: 119 Rea Road, RD2, Katikati 3178
Website: https://lazyriverlodge.com
What they offer:
Lazy River Lodge is a multi-purpose venue with a dining hall, adjoining bar, a large indoor ceremony space, multiple rooms for accommodation, swimming pool and four hectares of grounds including ponds, river and established trees. Lazy River is perfectly suited for group gatherings, single or multi-day workshops, corporate events and retreats for team building. Lazy River Lodge is also one of the few wedding venues in Tauranga with accommodation making it ideal for destination weddings and family gatherings where everyone can stay onsite.
Te Mata Lodge
Type: Accommodation
Location: 18 Eames Crescent, Te Mata Bay
Website: www.tematalodge.co.nz
What they offer:
Te Mata Lodge is the perfect base for exploring all that the Coromandel Peninsula has to offer. The Lodge has a choice of four self-contained cottages and three cabins with separate facilities, providing quality, well priced accommodation for both couples and large families. Rest assured that Te Mata Lodge is a great place to stay, with so much to do and explore around the property you may choose to stay in. Te Mata Lodge is more than just a place to stay. It is only a short walk down to the riverside where there are kayaks available and a large grass area with hammocks, swings, trampoline, and a large playing area available.
Promotion: 
Mention this promotion and we will give 20% off our website price
Waiheke Island Resort
Type: Accommodation
Location: 4 Bay Road, Palm Beach, Waiheke 1081
Website: http://www.waihekeresort.co.nz
What they offer:
The Waiheke Island Resort is Waiheke's largest accommodation & conferencing provider. Located above Palm Beach, each of our Seaview Villas feature every amenity required to enjoy your holiday. Our unique onsite facilities include a fully licensed Restaurant & Bar, a panoramic Swimming Pool Deck including Spa, multiple Events & Conferencing spaces, & even an 18 hole Miniature Golf course!
Promotion: 
Currently we are offering our accommodation at 25% off rack-rate! (this applies to any direct booking – through our website or phone 09 372 0011)
Whiti Farm Park – A Place of Interest!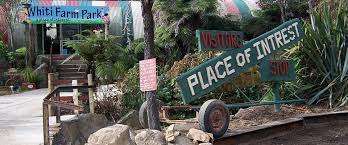 Type: Activity
Location: 2414 Tairua-Whitianga Road, State Highway 25 RD 1 Whitianga. 3591
Website: http://www.whitifarmpark.co.nz
What they offer:
FUN HAS NO AGE LIMIT! RECOMMENDED FOR THOSE AGED 1-101. Take a step back in time to explore 8 acres of shady, mature farm/park-like surroundings with a quirky touch of Kiwiana. Meet, hand-feed, cuddle and interact with over 100 friendly, domestic, farmyard and exotic birds, animals and reptiles, in a safe, clean environment.
AN AFFORDABLE FUN FILLED DAY OUT FOR ALL THE FAMILY. Bring a picnic or some bangers for the BBQ. Have a birthday party here! Bounce on the 6 meter trampoline, Roll in the hay, Climb the tree huts, Discover farm machinery! Drive the train, and play fireman in a real fire engine! so much to inspire, intrigue and educate. The stuff memories are made from!
Whiti Farm Park will be open seven days a week 10am – 4pm.